Mission Trip
NEXT MISSION TRIP TO COSTA RICA
Thirty plus FUMC members were part of a mission trip team to Costa Rica in June 2018 in support of the ministry of Rev. Ray Zirkel. Their mission site was the Methodist Children's Home located just outside the community of Coronado.
Preliminary work on the home began in 2007 and construction of the first home was completed in March 2011. The first children arrived in June 2011. Work on the second home was finished in April 2014. In just a few short weeks it too was filled to capacity.
The team worked on applying stucco to a multipurpose building which will add a much needed resource (especially during the rainy season) for the home. Additional projects included work building a perimeter wall to secure the facility and painting the fence line. The group hosted Vacation Bible School for a local Methodist church and for the children at the home.
There is another mission trip coming up for the youth in July 2019! The cost for each team member–which also includes cost of materials–will be between $1200 and $1300. Several fundraisers are planned including the regular sale of breakfast tacos on Sunday mornings.
If you are interested in supporting the mission team financially, please make your donation to FUMC and designate it "Mission Trip." Your prayers and support for the team and their mission are coveted and greatly appreciated. For more information on the trip, please contact Sam Garza at 830.278.3135.
MISSION TRIP TEAM MEMBERS:
Rio Texas Conference of the United Methodist Church requires (every 2 years) a background check, application and approval process, and safety training through Safe Gatherings and Trusted con Confianza to ensure abuse prevention for those we serve and best practices for volunteers and staff in ministry. You MUST complete the steps below prior to the Costa Rica Mission Trip:
STEP 1 Go to www.safegatherings.com. Click on the red "Get Started" button to register and create an account that you may access at any time or location. STEP 2 Fill out the online application. Be sure to have 1 non-current clergy and 1 professional reference on hand (phone numbers and e-mail addresses required for references). STEP 3 Access and complete the Safe Gatherings online abuse prevention and boundary awareness training. It's about one and one-half hours in length and covers best practices, how to recognize signs of abuse, and how to handle reporting. You may log in and out as needed if you do not have time to complete the course in one sitting. A short test is given at the end. This is all completed on your Safe Gatherings website account. If you do not pass, you will have opportunity to review and re-take the test. STEP 4 Attend a Trusted con Confianza safety training held by Rio Texas Conference of the United Methodist Church. Access the Rio Texas Conference site to find a date for an online webinar that is suitable to you. Simply go to this address: www.riotexas.org/safetrainings/ and click on a date/location to register. Please note that all four steps must be completed prior to working with children, youth, or vulnerable adults (per conference and church policy). Thank you for partnering with us to share the light of Christ. Your gifts, talents, prayers, resources, service, and love are needed and appreciated! ~FUMC Uvalde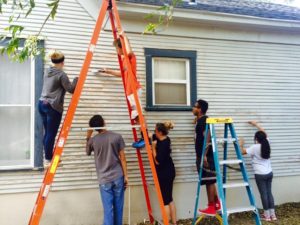 Our youth and youth sponsors are participating in H.O.T.T. Days this summer (Helping Out The Town) with other area churches to work the mission field here in Uvalde, Texas by cleaning yards and homes, completing minor repairs, painting, etc.
Call the church office at 830-278-3135 for more information.