Staff Mission: Our Christian Mission
Changing our world for Christ, one life at a time.
Meet Our Staff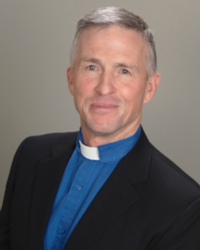 Dr. David Bachelor, Senior Pastor
I was ordained in York, England in 1997. I served five rural churches in the county of Somerset. Since returning to the U.S. I have served churches in New Mexico, Colorado and south Texas.
My wife Glenda and I have been married 37 years. We have three adult children. We are now "those people" who spoil their pets and treat them like children.
God has also called me to be a chaplain in the Navy Reserves. As a chaplain I have deployed to Iraq and Afghanistan. After Afghanistan I started Warrior Wash Ministry based on my dissertation. Warrior Wash is a retreat ministry providing a Christian solution to posttraumatic stress. Warrior Wash is also a resource for churches to start veterans' ministries.
I am the author of four books: Death-Shadow: Christianity and Posttraumatic Stress; Sacraments of War: The Sword and the Warrior Wash; Day Eight: Walking after the Warrior Wash; and MMXX: A Year Like No Other.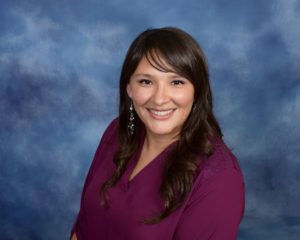 Bethany Suarez, Director of Children's Ministries
Bethany believes her calling to children's ministry is not exclusive to children. She emphasizes the combined fellowship of believers regardless of age in order to edify and equip the Christian community. It is her hope, with the help of God, to light a fire at Uvalde Methodist Church, shedding Christ's light in Uvalde as a guidepost for the lost who are seeking the Lord.
Bethany has previously taught high school English, drama, and journalism and was a stay-at-home mother for several years. She has also been director of Uvalde Methodist Church's children's mid-week programs in the past as well as for the Faith-in-Action ministry. Her husband is J.J. Suarez, division chair of allied health and human services at SWTJC, and they have two lively children, Aidan and Willa.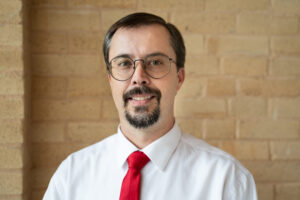 Paulo Viana, Director of Music Ministries
Paulo Viana is the new Music Director at the Uvalde Methodist Church, beginning in January 2023. Paulo is a native of Brazil and was born in São Paulo.
He started his musical studies at the age of 16, learning classical guitar. At 19, he began to learn the cello. He studied in the public music school of the city of Sã
o Paulo and Conservatório Dramático e Musical de Tatuí, both in Brazil. Also, Paulo played in some orchestras in Brazil and sang in choirs.
He comes from the Baptist Church where he actively participated in teaching music and playing cello in orchestras of several churches in the metropolitan region of São Paulo as a guest. His home church in Brazil was the "Primeira Igreja Batista da Liberdade" in the city of São Paulo.
In 2017, Paulo moved to the United States following God's call to study church music. After finishing the ESL program, he began to earn his B.A. in Music and Human Behavior at the Baptist University of the Americas (BUA) in San Antonio in 2019. He is currently in his 8th semester at BUA and plans to graduate from their music program in December 2023. Prior to joining our church staff, Paulo was a member of the First Mexican Baptist Church of San Antonio. He also served at Trinity Baptist Church in San Antonio, playing cello in the church's orchestras.
Paulo is married to Maíra Viana and they have a 10-year-old daughter, Carolina. You may have seen Maíra perform on Sundays, playing the flute at the 11a.m. worship service. Paulo and his family live in San Antonio. His hobbies include fishing, classical cars, reading, learning new things, and working on his 1989 Mercury Grand Marquis.
His email:

paulo.uvalde@gmail.com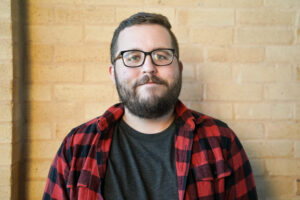 Travis Johnson, Director of Youth Ministries
Travis was born and raised in Lubbock, TX. Before coming to Uvalde, he served on the staff at three churches in Lubbock and Fort Worth, in the youth and worship ministries. Travis has a deep love for all things Star Wars, and enjoys baking, skateboarding, and playing guitar in his free time! Travis is a firm believer that youth are NOT the church of tomorrow, but they are the church of today. He fell in love with Jesus in middle school, felt the call to ministry in high school, and has a passion for helping pre-teens and teenagers fall in love with Jesus for themselves, and teaching them to share the Gospel.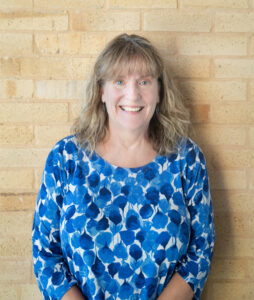 Sherry Wigington, Administrative Assistant
Sherry was born in Omaha and grew up in northwestern Nebraska. She graduated from Chadron State College with a Bachelor of Arts degree in Business Administration and Psychology, and an Associates degree in Guidance and Counseling. She is a fourth generation Methodist who has been baptized, confirmed, and married in the church. At her previous church, she was a member of SPRC and sang in the holiday concerts.
Her career highlights include working for the U.S. Olympic Committee as the operations coordinator for the Olympic Training Center, as the Director of Visitor Centers for the Convention and Visitors Bureau, and most recently, as an interviewer for the Center for Creative Leadership, all in Colorado Springs.
After 24 years in Colorado Springs, Sherry and her husband, Kyle, relocated to the Concan area to escape the Colorado winters. Their son, Kit, attends the University of Colorado – Colorado Springs where he is majoring in engineering and is a scholarship athlete on the UCCS baseball team.
Sherry enjoys daily walks with her German Shepherd and reading, especially historical fiction. Her love of traveling has taken her to 42 states and ten countries. But her favorite place to be is in the stands, watching her son play baseball.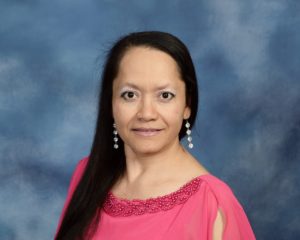 Paula Colhour, Program Staff Assistant
Paula spent most of her childhood between Matamoros Tamaulipas Mexico and Central Mexico. At the age of eleven she had her first job in Matamoros as a housekeeper for a family. She continued that job through the sixth grade and then continued her housekeeping job in San Luis Potosi.
Between raising her two newborn nephews until the ages of six and seven, she managed to continue secondary school. Later, she would continue her studies in San Benito, TX after arriving in Texas in the 1980s in order to learn English at the San Benito Adult Learning Center.
After moving to Uvalde in the 1990s, she took her GED. After encouragement from an employer, Paula attended SWTXJC graduating with an Associates of Office Systems Technology in 2006 and then in 2008 she graduated with an Associates of Art & Science. She then began to work on her Bachelors at Sul Ross Rio Grande College.
One of her greatest joys was coming to work at Uvalde Methodist Church where, for the first time, she was able to experience God's Love through its members. It was like landing in heaven.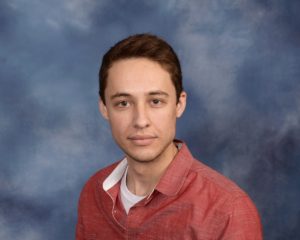 Jason Schlichting, Church Organist & Pianist
Jason has been a passionate musician all his life, and in 2011, joined the staff of Uvalde Methodist Church. This lifelong musician first started playing piano when he was five years of age, and since his move to Uvalde, has been an active music minister for the last fifteen years.
Jason also loves teaching and provides accompaniment for the Uvalde High School Independent School District as well as teaching private lessons. He is a student at Sul Ross State University working on his Bachelor's in Business.
Alicia Ramirez, R. N., Wesley Nurse
Hello! My name is Alicia Ramirez and I am the new Wesley Nurse. I have been a Wesley Nurse for the past three years, but have been in the medical profession for more than 25 years.
I am the proud mother of a 18-year-old son who recently graduated Crystal City High School. I was raised in a small community just south of Uvalde.
La Pryor has been my hometown for many years. I am excited to be here and I look forward to working with the congregation and the community. It is an honor and a privilege to serve our God while working in a profession that I truly love!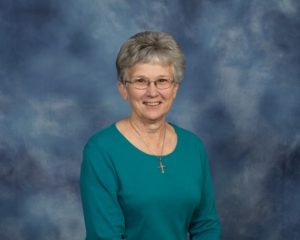 Sandra Cox – Treasurer
Sandra Cox, our Church Treasurer, was born and raised in Uvalde. She was baptized and confirmed at Uvalde Methodist Church and has been active in the church ministries her entire life.

Following in her grandfather and father's footsteps, she has been the church treasurer for over thirty years.
Sandra retired from a highway construction company as office manager and bookkeeper after 30 years of employment and then fifteen years later retired again from a local bank as a trust officer.

Sandra has three sons and five grandchildren and enjoys traveling in the United States and abroad with friends and relatives.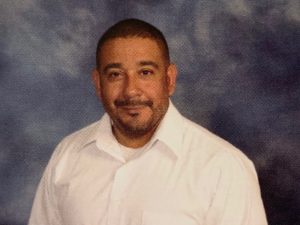 Steven Sanchez, Facilities Manager & Maintenance
My name is Esteban Sanchez but I go by Steven. Prior to beginning my journey here at the Uvalde Methodist Church I had been working 16 years as a correctional officer and tactical commander.
I am a proud father of 7 children from ages 28 down to 6 years old. Of the seven children, 3 are serving our great country in the United States Army. I also have 9 grandchildren. I am married to my wife Karie of 17 years and we m
oved back to my home town Uvalde, Texas in 2018.
My hobbies include working out, playing video games with my 6 year old son, working on our land, and playing with my grandchildren. I am blessed to be part of the staff here at the church, and look forward to serving my community and sharing the Lords message.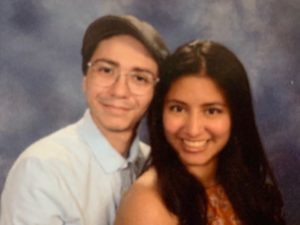 Zarek & Cheyenne Munoz, Audio & Video Technicians
Zarek and Cheyenne are from and currently live in San Antonio, TX. They have been on staff since 2016 and love the church family they have been able to build in Uvalde, it is a second home. Zarek works for a software company troubleshooting issues, specializing in email. Cheyenne is a wedding photographer and videographer. In their free time, they love spending time with their little family which includes their lovable pet rat Ronnie, rescue dog Hank, and the newest addition, baby Rupert.