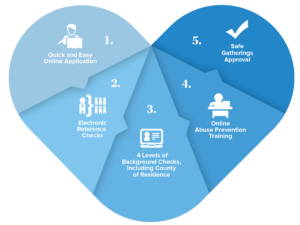 Volunteer Resources
As Christians, we are called to use our various gifts in concert with one another: one united body with many parts. We cannot do the important work of Christ without him as the head and without each other.
This page lists the steps to take if you will be joining us in ministry to children, youth, or vulnerable adults in any capacity and for any length of time. (A vulnerable adult is anyone over the age of 18 that is experiencing physical, emotional, psychological, or spiritual difficulty. Examples include a person sick in the hospital, a person with dementia, or a person grieving from loss.)
Examples of ministry work with children, youth, and vulnerable adults might include but is not limited to: Sunday school, Vacation Bible School, Youth sponsor/trip chaperone, Kings Kids, camps/retreats, Advent & Easter festivals, Chrysalis team, meal or communion delivery to home-churched or sick, home-church visitations, Confirmation Friend in Faith, H.O.T.T. Days, Faith In Action leaders, Nursery, God's Kids Choir, Stephen Ministry, etc.
Should you find that you may have difficulty in completing the steps below, please call the church office at 830-278-3135 for assistance from staff. A staff member can guide you and/or give you access to a computer and the internet.
NOTE: Rio Texas Conference of the United Methodist Church requires (every 2 years) a background check, application and approval process, and safety training through Safe Gatherings and Trusted con Confianza to ensure abuse prevention for those we serve and best practices for volunteers and staff in ministry.
STEP 1 Go to www.safegatherings.com. Click on the red "Get Started" button to register and create an account that you may access at any time or location. Under organization name, type UVALDE–not First United Methodist.
STEP 2 Fill out the online application. Be sure to have 1 non-current clergy (a pastor, active or retired, who is not your current pastor) and 1 professional reference on hand. Notify your references that an e-mail from Safe Gatherings will likely go to their junk or spam folder.
STEP 3 Access and complete the Safe Gatherings online abuse prevention and boundary awareness training. It's about one and one-half hours in length and covers best practices, how to recognize signs of abuse, and how to handle reporting. You may log in and out as needed if you do not have time to complete the course in one sitting. A short test is given at the end. This is all completed on your safegatherings.com website account. If you do not pass, you will have opportunity to review and re-take the test.
STEP 4 Register for and participate in a Trusted con Confianza safety training held by Rio Texas Conference of the United Methodist Church. Simply go to this address: www.riotexas.org/safetrainings/ and click on a date/location to register. There are several trainings that are online webinars that you may participate in from home. Just be sure to register and log in prior to the time of the training. Alternatively, check the church calendar to attend a webinar with others on site at church or call the church and ask for a staff member to host a webinar on-site.
For assistance, call or stop in to the church office. Office hours are Monday – Thursday, 8AM-12PM & 1PM-5PM. NOTE: It is not necessary to have completed the online Safe Gatherings course prior to participating in the Trusted con Confianza webinar. However, it is preferable that an account through Safe Gatherings has been set up prior to the webinar.